Discovering History: Egypt's Early Settlers and Prehistoric Carvings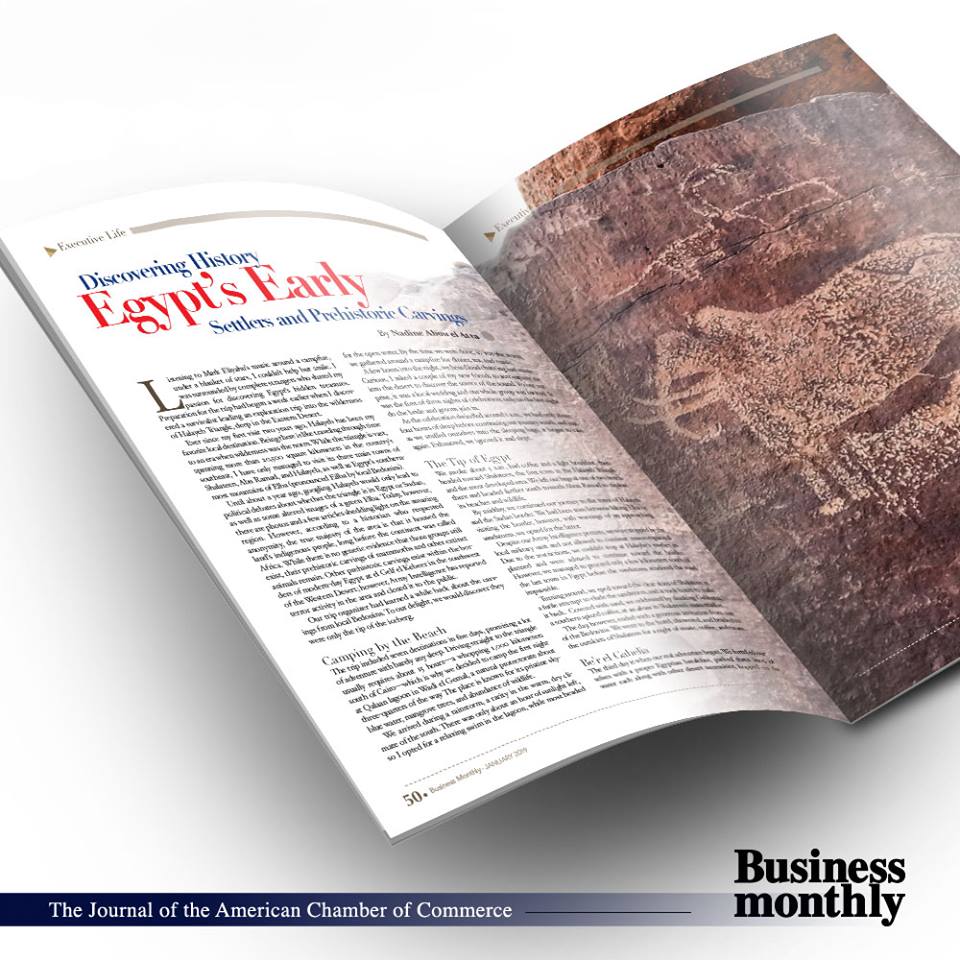 Originally published in Business Monthly January 2019 issue.
Listening to Mark Eliyahu's music around a campfire, under a blanket of stars, I couldn't help but smile. I was surrounded by complete strangers who shared my passion for discovering Egypt's hidden treasures. Preparation for the trip had begun a week earlier when I discovered a survivalist leading an exploration trip into the wilderness of Halayeb Triangle, deep in the Eastern Desert.
Ever since my first visit two years ago, Halayeb has been my favorite local destination. Being there is like traveling through time to an era when wilderness was the norm. While the triangle is vast, spanning more than 20,500 square kilometers in the country's southeast, I have only managed to visit its three main towns of Shalateen, Abu Ramad, and Halayeb, as well as Egypt's southernmost mountains of Elba (pronounced Eilba by local Bedouins).
Until about a year ago, googling Halayeb would only lead to political debates about whether the triangle is in Egypt or Sudan, as well as some altered images of a green Elba. Today, however, there are photos and a few articles shedding light on the amazing region. However, according to a historian who requested anonymity, the true majesty of the area is that it housed the land's indigenous people, long before the continent was called Africa. While there is no genetic evidence that those groups still exist, their prehistoric carvings of mammoths and other extinct animals remain. Other prehistoric carvings exist within the borders of modern-day Egypt at el Gelf el Kebeer in the southwest of the Western Desert; however, Army Intelligence has reported terror activity in the area and closed it to the public.
Our trip organizer had learned a while back about the carvings from local Bedouins. To our delight, we would discover they were only the tip of the iceberg.
Camping by the Beach
The trip included seven destinations in five days, promising a lot of adventure with barely any sleep. Driving straight to the triangle usually requires about 15 hours—a whopping 1,000 kilometers south of Cairo—which is why we decided to camp the first night at Qalaan lagoon in Wadi el Gemal, a natural protectorate about three-quarters of the way. The place is known for its pristine sky-blue water, mangrove trees, and abundance of wildlife.
We arrived during a rainstorm, a rarity in the warm, dry climate of the south. There was only about an hour of sunlight left, so I opted for a relaxing swim in the lagoon, while most headed for the open water. By the time we were done, so was the storm, we gathered around a campfire for dinner, tea, and music.
A few hours into the night, we heard loud chanting and music. Curious, I asked a couple of my new friends to accompany me into the desert to discover the source of the sound. To our surprise, it was a local wedding and our whole group was invited. It was the first of three nights of celebration; only on the last night do the bride and groom join in.
As the celebration dwindled around 1 a.m., we had only about four hours of sleep before continuing our journey south, and just as we stuffed ourselves into the sleeping bags, it began to rain again. Exhausted, we ignored it and slept.
The Tip of Egypt
We awoke about 5 a.m., had coffee and a light breakfast, then headed toward Shalateen, the first town in the Halayeb Triangle and the most developed area. We left our bags at one of two hotels there and headed farther south towards Abou Ramad to explore its beaches and wildlife.
By midday, we continued our journey to the town of Halayeb and the Sudan border. We had been torn between hiking Elba or visiting the border, however, with warnings of an approaching sandstorm, we opted for the latter.
Despite our Army Intelligence permits, we were stopped by the local military unit and not allowed to continue unaccompanied. Due to the restrictions, we couldn't stop at Halayeb's market as planned and were advised to continue toward the border. However, we managed to proceed only a few kilometers south of the last town in Egypt before the sandstorm rendered the road impassable.
Turning around, we sped toward the clear skies of Shalateen in a futile attempt to elude the sandstorm, and it took hours to make it back.  Covered with sand, we celebrated by drinking Gabbana, a southern spiced coffee, at an ahwa in Shalateen's main market.
The day, however, ended with a generous invitation from one of the Bedouins. We went to the hotel, showered, and headed to the outskirts of Shalateen for a night of music, coffee, and treats.
Be'r el Gahelia
The third day is when our real adventure began. We fortified ourselves with a proper Egyptian breakfast, packed three liters of water each along with other desert necessities, hopped on the back of a truck and headed into the Eastern Desert.  Driving along the Red Sea north of Shalateen we came across a new sign marking the entryway toward the aptly named Be'r el Gahelia. While the name literally translates to well of ignorance, the term Gahelia is what Arabs commonly call prehistoric periods. It only took 30 minutes of off-roading to reach a completely different era.
We off-roaded for nine hours into the desert, every few kilometers coming across a well surrounded by a small group of Bedouins, reminders of a time when people lived around water sources and consumed only the milk and meat of their livestock.
There was a surprising lack of Arabic, and the farther we went into the desert, the more difficult it became to communicate with locals. Soon we became entirely reliant on our guides.
While the weather was breezy, it was exceptionally dry. It took only a couple of hours before we drank all the water we packed, so we kept refilling our bottles at each stop.
It's a Mammoth
Several hours into stretches of nothingness, we arrived at a small oasis surrounding what looked like a Roman-pharaonic gate carved into the side of a mountain. The gateway was covered with grass, with potable water seeping from under it.
Legend has it the gate hides enough water to drown the entire area, and ancient Egyptians during the Roman era built the gate to support life in the valley. Of course, no one knows who or how it was built, but one thing was certain, the gate does have water behind it.
After filling up our bottles, pouring water all over ourselves, and refilling our bottles again, we took a quick rest in the shade. Our group leader attempted to explain where we were geographically and where we were going. All I retained was that we were in Abou Safaa, an area with several clusters of prehistoric carvings.
We hopped back up on the truck and headed out again. After 40 to 60 kilometers, we passed through several carvings along the hills. However, our guides wanted to show us a specific area.
Finally, we arrived at a group of large boulders, several shades darker than the surrounding area. They were covered with images: people surrounded by cattle with long horns, spotted horned animals, and—my favorite—a mammoth. There were carvings of ships carrying animals, owls, and people with spears. It was beyond magical. Later, we learned the carvings were done by people who, technically, were Egypt's first settlers in an area that was the tip of a forest in prehistoric times. These, however, are mostly inductions. There are no proper studies done on the heritage of this area nor its indigenous people.
About an hour later, we began heading to Abraq, another area believed to house prehistoric carvings. Driving deeper into the desert, the Bedouins appeared weaker and poorer. They were definitely in need of aid, however, we had nothing to give them. When a person in our group attempted to hand a man some money, he didn't seem to understand.
Driving for another hour, we came across a lush green valley. We stopped for a quick drink from the well in the area and began hiking in the surroundings. The hills around the valley had a few carvings near their peaks, mostly of mammoths.
As the sun began to set, we hopped back on the truck and headed out of the desert. Unfortunately, we left much later than we should have and drove most of the way in pitch-black darkness.
By the time we got back, we were sunburned, covered in dust, and bruised from a day on a rocky road. As we reached the main coastal road, we stopped at the first fuel station to buy water. It was amazing how dry our bodies and mouths were, regardless of the amount of water we drank.
Back in Shalateen, we all knew that if we headed for a shower, none of us would make it out of our rooms. Instead, we went for a lamb barbeque dinner in the market, shopped for Sudanese herbs, and laughed the night away in the ahwa.
While this was only the third day of an amazing trip, filled with spectacular excursions, including a rare sighting of a wild ibex, nothing compares to the moment I stood centimeters away from something carved by what can easily be an early human.