In-depth with the Head of the EU Delegation to Egypt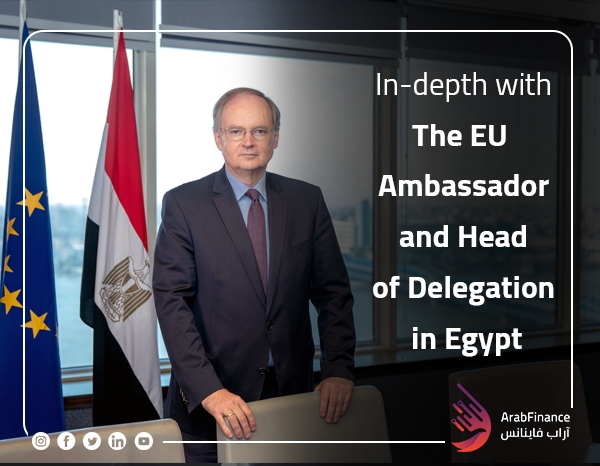 Originally published on Arab Finance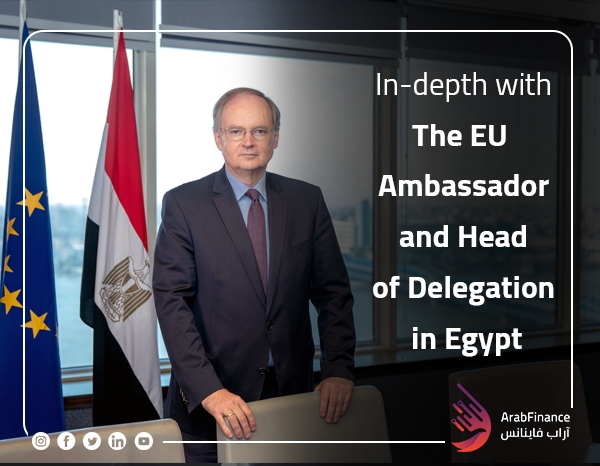 Over the past decade, the interest of European Union (EU) investors in Egypt has been steadily growing. Today the local market has attracts around EUR 39 billion annually, according to the EU delegation estimates, making Egypt the second largest investment portfolio in the Mediterranean region and the largest in Africa.
Furthermore, despite the decline in global trade, EU-Egypt trade has gone up by 15% during the first nine months of 2020.
On the support side, the EU has aided Egypt with a total of EUR 1.3 billion, with a currently active portfolio of EUR 1.1 billion.
Arab Finance sat down with Christian Berger, the head of the EU Delegation in Egypt, for an in-depth interview about European investments in Egypt, the delegation's aid portfolio, maneuvering the pandemic, and his outlook on the country's growth and challenges.
The EU aided Egypt with a total of EUR 1.3 billion. What are the main areas that received most of the grants?
Currently, we have an active portfolio of EUR 1.1 billion, these are divided between EGP 432 million in normal grants to numerous projects and EUR 620 million blended grants, which are grants in support of loans. This blending has allowed us to leverage EUR 7 billion worth of loans.
By and large, our cooperation with Egypt is focusing on economic modernization, energy, social development, and governance issues.
If we break the list down further, you will find that for many years we are focused on green energy projects and energy efficiency, water issues, such as irrigation and wastewater management.
Our interest in transportation is relatively new and we want to expand into it. The European Investment Bank (EIB) is supporting the construction of the metro lines in Cairo and urban transportation projects are also foreseen in Alexandria.  We want to encourage greener means of urban transportation in Egypt.
The EU's spectrum of cooperation includes numerous social and health projects.   Of course, our focus in this area increased since the pandemic.
We support the government's fight against COVID-19 with an EUR 89 million contribution to the Ministry of Health, as well as an agreement with the Ministry of Social Solidarity and UNDP of EUR 6 million in grants with the aim of mitigating the impacts of the pandemic on vulnerable groups and protecting them from getting infected.
What do you hope the EU delegation achieves in Egypt in 2021 and beyond?
Generally, we want to maintain our broad range of projects. However, if we are talking mainly about 2021, the priority for all of us is to focus on mitigating the socio-economic impact of the pandemic.
We have recently issued an agenda for our southern neighborhood, which Egypt is a part of, that focuses on key areas including: human development and good governance; strengthen resilience and building prosperity;  peace and security; migration and mobility; environment, energy, and climate resilience.
Zooming in on Egypt, and in line with the country's Sustainable Development Vision for 2030, this translates to poverty alleviation, local socio-economic development, and social protection; enhancing the business environment, the digital transformation of the economy, governance, and regulatory frameworks; improving the quality of life.
I, however, need to highlight that what we do here is always in line with the government's plans, particularly that of Vision 2030, as well as the UN's Sustainable Development Goals.
Did the pandemic impact the progress of your plans in Egypt, or was it simply added to the EU's plate?
Both, it was certainly added to our plate; this is a disease that has hit us globally with unprecedented speed and scope.
Given that we have very strict rules when it comes to the implementation and timeline of EU-funded projects we had to change the way we work.  We had to adapt our systems to address the slowdown caused by the pandemic.
It is taking a bit longer to get documents signed, to finalize agreements, and, of course, the biggest impact is on field visits and physical activities.
I am hoping once things improve we can move ahead with full speed.
How do you evaluate the interest of EU investors in Egypt versus other regional countries?
Egypt is viewed as a very attractive market to EU investors. The latest statistics show EUR 39 billion annually.  This makes it the second-largest investment portfolio in the Mediterranean region after Turkey; and the largest in Africa.
This is because Egypt is viewed as a key regional trading hub for Africa, the Middle East, and the Mediterranean. The country's young and well-educated population, developed infrastructure, transportation facilities with harbors in the Mediterranean, the Red Sea, and of course the Suez Canal play an important part when investors make their choices.
We work with our partners, for example, the chambers of commerce and business associations on encouraging further EU investments in areas like renewable energy, electricity, the digital transformation of the economy.
Moreover, we are working with the government on fostering a conducive environment for these investments to happen. Promoting opportunities bring business together also in times of COVID-19 is important.
Egypt's appeal has made trade go up. Looking at the first nine months of 2020, trade increased about 10 to 15% between the EU and Egypt.  Additionally, the IMF figures show that Egypt is the only country in the region that showed growth during the pandemic.
How do you evaluate Egypt's ease of doing business?
Investors are normally looking for protection of their investment, laws supporting fair competition, a well-functioning dispute-settlement structure.
A lot of work has been achieved on the legislative side to address these issues and enhance the country's appeal for foreign investment.  The investment law of 2017, the tax law, the customs law have been very influential in the improvement in Egypt's attractiveness.  It is always important to react to the needs of the business community.
Moreover, the country enjoys several advantages. Firstly, its young educated population; secondly, a well-developed infrastructure; Egypt's location that allows it to be an important transportation hub.
In your opinion, what more can be done to enhance the flow of EU investments in Egypt?
First of all, investment opportunities need to be clearly communicated, where to invest, what is needed, and what is the return. I know this is already being done but the market needs more communication in this regard, particularly now in times of a global slowdown.  We want to bring the Egyptian and European business communities together to promote investment in Egypt. The EU Delegation has experience in arranging business forums and meetings with our partners in the country.
If we were to adopt an economic aspect from a neighboring country to enhance Egypt's investment climate what would it be?
Egypt is doing very well by comparison, actually, other markets may want to look at what it is done here.
However, generally speaking, successful countries are the ones that offer investors an environment where their investments are safe and an economy that is growing. I believe Egypt is progressing very well in this regard.
How do you evaluate Egypt's progress in terms of the SDGs?
Egypt is a great supporter of the implementation of the SDGs.  Our partnership with Egypt also means to help achieve the SDGs and support Egypt's Sustainable Development Strategy Vision 2030.
Zooming in on some of the SDGs let me highlight the success in offering education for all and closing the gap between boys and girls enrolment; good progress in TVET and investment in E-teaching and E-learning; a major reform in the health sector and aiming to achieve universal health coverage by 2030.  There is a strong focus from EU programs in support of several SDG for example relevant for rural and urban development.   Egypt is at the forefront of women's rights, enhancing their presence in business and addressing health issues.
That said, we need to ensure that the progress in achieving the SDGs is not hampered by the pandemic.
Generally speaking, what are Egypt's main challenges?
At the moment the main challenge we are all facing is the pandemic, not just health issues but the impact on the economy and the livelihood of the population.
Part of our efforts to aid the country in this regard is through the EIB arrangement with local banks to offer EUR 500 million in financing to small- and medium-sized enterprises (SMEs).
The European Bank for Reconstruction and Development has also been very active in supporting SMEs. We also try to provide technical support to small business owners.
An age-old issue, of course, is water.  That's why we are involved in this sector with projects, for example in irrigation, wastewater, and sanitation projects.
Another one is employment and job creation.  We need to define the right profile of skills needed and offer training opportunities.  The Alexandria Businessmen Association, for example, has a center for vocational training. I think that is a very good model to follow.
In Europe, in-field training is part of a dual education process, and I believe this model equips graduates with the needed skills to meet the market's needs.  The jobs are there, the demand is there and we need to train people to fill those jobs.  With our TVET program, we are offering technical assistance and support in addressing this issue.
Furthermore, it is equally important to enhance the social attraction of different types of jobs.  It is a common concern in many countries that we need to highlight the importance, value, and promising career projection of different types of jobs and professions.
By Nadine Abou el Atta